We all have our jewelry collections, and over time things start to add up. With more pieces, storage can become more of a hassle than ever before. As you add new pieces of jewelry to your collection, you may be thinking of new ways to display and organize your current selections of rings, necklaces, earrings, and more. Of course, organization is a key part of storing your precious items, but there are so many factors to consider. Check out these top 9 tips to safely store your fine jewelry.
Location, Location, Location
To start off, you need to determine the best location for your jewelry. If you don't have a designated spot such as a drawer in your vanity or jewelry organizer, you should evaluate some options in your space to find a place that has room. You may need to move things around to accommodate the new designated space for your jewelry.
Define the Environment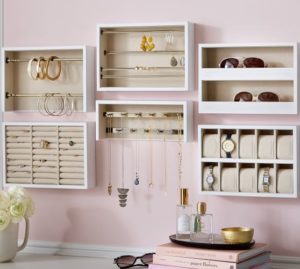 When finding a spot for your jewelry storage, keep in mind the environment. Don't put your jewelry out directly in line with a window where it will get a lot of heat from the sun. It's important to also consider the amount of humidity in the space. Avoid storing your pieces in the bathroom or other humid rooms of your home as some jewelry can become damaged with too much moisture.
Invest in a Jewelry Box or Organizer
Once you've found a nice, cool spot to store your jewelry, you should purchase an organizer that's meant to store jewelry. It's important that you find a jewelry box rather than a general organization box, because the lining of a quality jewelry box will keep your items from getting damaged.
Keep Dirty Jewelry Away from Your Clean Pieces
If you have an oxidizing or tarnished piece of jewelry, store it away from clean jewelry. If stored in the same place, dirty jewelry can cause clean pieces to tarnish more quickly. Keep it in a separate location until you are able to take it in to get it professionally cleaned.
Organize Hanging Jewelry with Hooks
Necklaces, chains, and wrap-style bracelets are notorious for getting tangled together. Instead of trying to make your longer pieces work in a drawer, try using hooks to hang them up. This prevents both tangling and disorganization. All you need to do is look at your hooks, and you can find the perfect necklace easily.
Isolate Your Gemstones
Gemstones tend to be more resilient than other jewelry. This is especially true for diamonds. They are the hardest gemstones out there, which means they are capable of scratching any number of your other pieces. Store your engagement ring and other diamond jewelry away from other pieces to avoid damages.
Pay Attention to Your Silver
Silver is particularly finicky. Keep your silver in cotton or felt compartments. Wrap them up if needed to keep them protected but allow airflow. This is the best means to prevent your silver from tarnishing.
Keep Your Daily Jewelry Easy to Access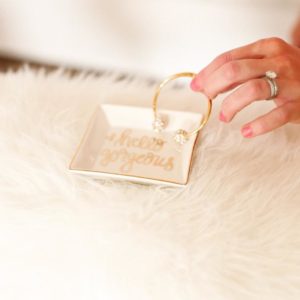 There's no reason to store jewelry you wear every day in a hard-to-access location. Instead of storing your favorite earrings in your closet behind some clothes, consider giving yourself a small space on your dresser or nightstand to place your daily pieces at night.
Store Valuables out of Sight
While you want to be sure to store your jewelry well for the sake of its longevity, it's also paramount to consider the security of your valuable pieces. Store your valuable jewelry out of sight and in a secure location using a lock and key. Make sure you are still keeping these pieces in a lined drawer and invest in insurance to stay safe.