Curious to know what the world of engagement ring glitz and glamour has in store for 2019? Our Chrysella fashion experts have you covered. Ready to be dazzled?
2019 Stone Shapes:
Non-round shaped diamonds are soaring. Aside from the traditional round brilliant cut diamond, the most popular stone shape in 2019 is a three–way tie between oval, pear, and cushion. This past bridal season seemed to lend itself to be reminiscent of last year's trend of pear and oval shaped diamonds sneaking into engagement rings. Cushion cut diamonds are also finding their way back into play as a desired shape. And if you have ever seen a cushion cut diamond, you can imagine why this particular cut can charm itself into almost any ring setting.
2019 Ring Styles:
Keep something in mind: It's not just the stone shape that matters when engagement ring shopping… it's the style of the engagement ring. The style of the engagement ring matters just as much as the stone shape. The ring style and the stone shape have a special relationship; each counting on the other to charm the wearer into absolute bliss. In a perfect world, you could win some serious romance points if you just so happen to choose the perfect stone shape coupled with the perfect ring style.
For 2019, the most popular ring styles have one thing in common: French Pavé Set Diamonds. By the way, it's pronounced "Pahh-Vayy". Whether they are small accent diamonds running along the shoulders of the ring or a halo with several diamonds surrounding the center stone, French Pavé is paving the way!
What is French pavé? The word Pavé is of French origin and translates to the word "paved." In a French Pavé set engagement ring, the diamond setter carefully hand cuts micro "V" shapes into the precious metal thereby creating a seat for each individual diamond. What you are left with is a dazzling look that showcases the beauty of the diamonds while minimizing the amount of metal around each diamond.
Almost every style engagement ring can be made to feature French Pavé set accent diamonds! Take a look below at one of our popular Pavé styles!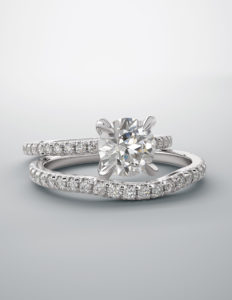 2019 Metal Colors:
Yellow gold is another attractive feature that soon–to–be brides are dreaming about. It helps that the beautiful hue and tone of yellow gold can really compliment one's skin tone. Not to mention that yellow gold just looks magical with the right diamond!
Another interesting fact about yellow gold is that unlike its counterpart (white gold), it requires a lot less maintenance. White gold needs to be electro-plated with an expensive white metal called rhodium to achieve its bright white finish. After a while, the plating wears off and you have to visit a jeweler to re-apply it. Yellow gold is naturally colored and does not require any plating. A quick polish will have it looking like new!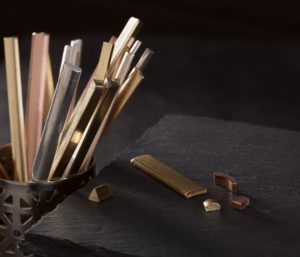 So, are you ready to go shopping? Ask your jeweler to take a peek at their Oval, Pear and Cushion shaped stones. Once you choose the perfect diamond for your budget, take a glance at the French Pavé set engagement ring settings. Finally, choose the perfect color that you know your significant other will absolutely fall in love with.
The one thing every man wants is to give his fiancé a ring she will be proud to wear. This year more than ever, with numerous stone shapes and the flexibility of customizing any ring with French Pavé set diamonds, finding that special ring is inevitable.