With the holidays approaching, it is a perfect time to start taking note of how everyone is bedazzling themselves. Most people will gravitate towards a certain metal or style and we encourage that! Jewelry is so personal to each individual.
This year, show your loved ones you are paying attention to what they are wearing or not wearing by choosing a personalized piece of jewelry for them. While visiting with family this Thanksgiving, take a moment to observe what pieces of jewelry everyone is wearing. A pro tip is to compliment your family member on the jewelry they currently have on. Often times that will lead them into telling a story of how they acquired this piece, or on the opposite end they will explain how they are not usually one to wear something like that! It's a perfect way to get intel on what you can surprise them with for the holidays. Plus, it may lead to a really beautiful story you may not have heard otherwise.
Instead of trying to convince your grandmother to switch out the ring she has been wearing for sixty years, why not create an accent band that frames her favorite ring and gives her a little extra sparkle? We all have our favorite pieces that we won't part with and they should be celebrated.
Another idea is to get a simple piece with a metal they normally wear (pay attention to if they wear silver or gold!) with an engraving. We especially like engraved pieces for new moms with their child's name. Almost a guaranteed tear jerker.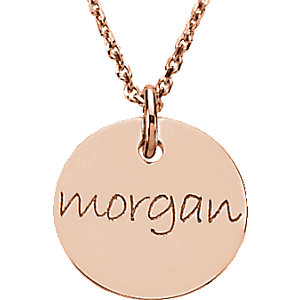 Enjoy the holiday season, pay attention to your loved ones and their style, and help them sparkle!