The most wonderful time of the year, the Christmas holidays are filled with sweet and romantic moments that are perfect for popping the question! From snuggling up with your loved one in front of the fire, to decorating the Christmas tree or taking long snowy walks, the festive holidays are packed with special times that make great moments in which to ask the big question – so it's no wonder that it's the most popular holiday for couples to get engaged. Aside from Valentine's Day, Christmas Day, Christmas Eve and the 12th of December are statistically the most popular dates in the calendar to get engaged, with 40% of couples popping the question in this period. Tis the season for a proposal!
If you're thinking of getting down on bended knee this Christmas, keep reading to discover some original ways to ask your partner to marry you, plus how to pull off the perfect Christmas proposal.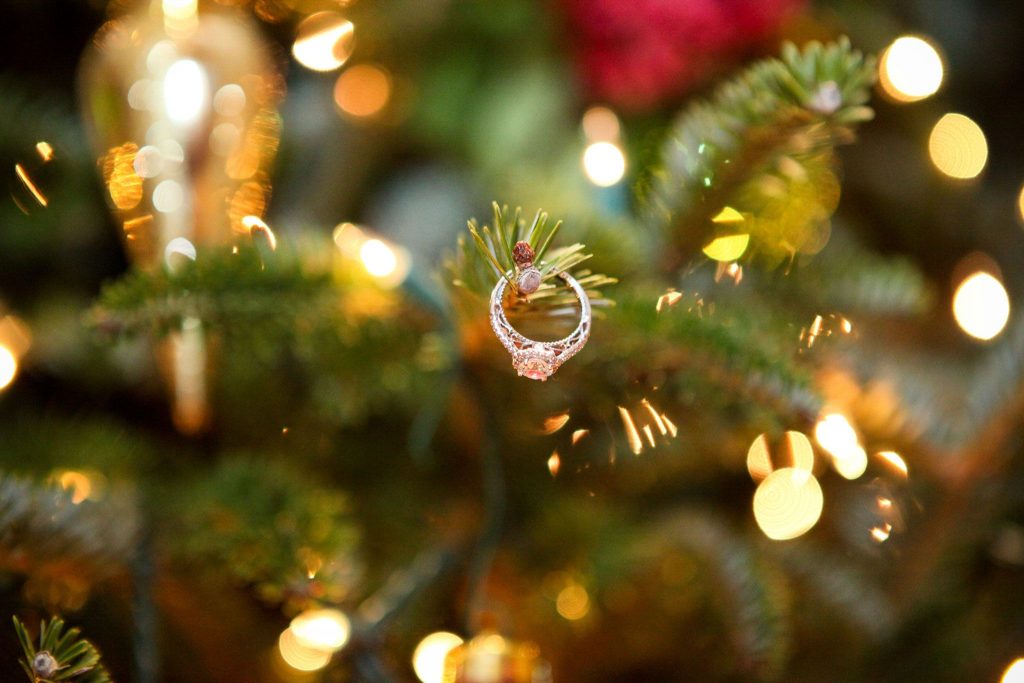 Christmas Proposal Ideas
The wonderful thing about Christmas is the fact that your time will already be filled with shared romantic moments with your partner. Think about those instances spent wrapping gifts for loved ones, decorating the tree, or sharing a glass of mulled wine in front of a toasty fireplace. Take advantage of that romantic Christmas spirit, and the twinkly festive backdrop, and take the plunge with one of these festive proposal ideas:
Hide The Ring Inside Their Advent Calendar
For a unique way to say, "will you marry me?", replace a candy in their advent calendar with a sweeter-than-chocolate treat for a magical Christmas surprise.
Give Them A Gift Within A Gift
Throw them off the scent by wrapping the engagement ring inside a box (perhaps even inside another box) which is much larger than the ring, so that you can keep your proposal a surprise until they've unwrapped all the other layers (which also give you plenty of time to get down on one knee!).
Hang The Engagement Ring On The Christmas Tree
Tie your ring to a pretty ribbon and hang amongst the pine leaves and ask your beloved to look for something on the tree on Christmas day, or even as a surprise when you're decorating the tree earlier in December.
Hide The Ring Inside An Ornament
We've spotted some tree ornament designs that leave room inside for a sparkling engagement ring; you could even ask your significant other to put it on the tree when you're both decorating and just wait for her to notice what's inside.
Propose On A Long Winter Walk
Take your partner walking in a winter wonderland and for a stroll while the world is under a blanket of snow for a perfect Christmas proposal.
Meet Her Under The Mistletoe
Of course, no December proposal should be without a sprig of festive mistletoe; the seasonal symbol of love. Ask her to meet you under a branch of hanging mistletoe, and then surprise her with a truly romantic proposal.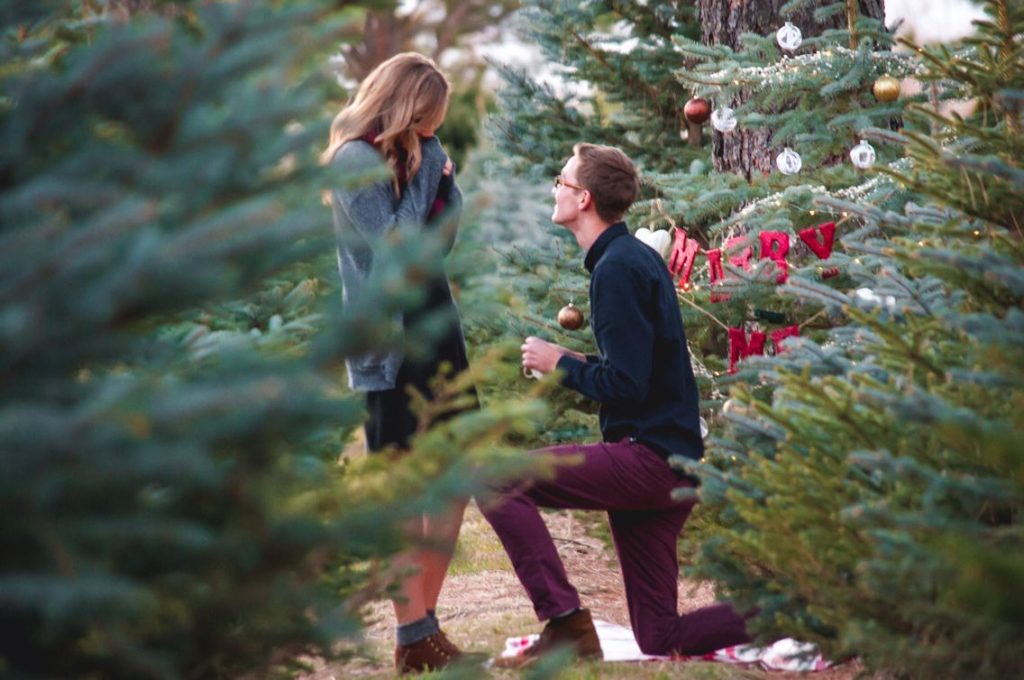 Creating The Perfect Christmas Proposal
Once you've gotten the perfect ring and decided how you want to propose, the next step will be to plan your moment, all while keeping everything under wraps! Here are three important things to check off in the lead up to your proposal:
1. Just The Two Of You, Or More?
Should you keep your proposal between the two or you, or would you like to include family and friends in it too? This is best gauged by whether she wants to spend a lot of time with family, or if your time is spent mostly as just the two of you. Does she spend a lot of time with her mom? Her dad? Sisters and other relatives? As a time for celebrating with family and friends, it's likely that the holidays have already brought the family together for a big Christmas celebration, but this doesn't necessarily mean that your significant other wants to share her engagement with her family too. You probably know her better than anyone, so go with your gut, and if it's telling you to keep it small and simple and without the others around, then choose to make it just you and her. If you know that she would prefer to have a bigger celebration then what better time of year than at Christmas? With family nearby, you could also share the plans with them so that they can help you to plan the event or distract your partner if needs be. It'll only add to the fun of your proposal.
If you do plan on sharing this magic moment with others, Chrysella stresses the importance of taking every safety measure into consideration given the pandemic.
2. Keep It A Surprise
You don't need a degree in acting to keep your engagement a surprise (although if you do, then it can only help!), but if you want to keep everything under wraps, then it's best to pretend it's going to be a very ordinary holiday season. Focus on other family events or activities that you are going to, and make sure the ring is hidden safely out of view! If you've let friends and family in on the secret and have managed to enlist their help, maybe they could help you out by covering various aspects of the engagement, such as helping with ring shopping or setting up the proposal spot.
3. Set The Scene
Whether you've decided to have an outdoor proposal set against a winter backdrop, or indoors in front of the hearth, you'll need to prepare. Granted, not every woman wants to be showered in rose petals, but setting up your location with some small touches such as romantic mistletoe, fairy lights and decorations will go a long way to making your significant other feel special.
You could always suggest that you're arranging a 'photoshoot' – if it's not something that's wildly out of your character, or again, if you're very good at acting! The bonus here is that you'll have a professional photographer on hand to snap that special moment that you bend down on one knee. It'll be a treasured set of photos that you'll both be able to keep and recall the memories for Christmases to come.
Chrysella is the one place you want to visit before you pop the big question this holiday season! Schedule a meeting with our Chrysella experts and design your dream ring for your dream proposal, or even shop our beautiful hand selected assortment of any jewelry you may need!