Many people who consider creating a custom engagement ring are entering the process with little to no experience or research. While it can seem daunting at the start, Chrysella's seamless processes and expert staff make getting the ring of your dreams a breeze.
Chrysella brings your design to life with our expert advice, solely planned to compliment your wishes, requirements, and requests.
The Chrysella Custom Design Process
Step 1: Consultation
The process starts with a meeting with our designer who will listen to your needs and discuss ideas with you, providing detailed information on what you can expect throughout the ring-making process. We will work with you to create the perfect ring to your design specification, discussing budget, materials, timeframe and methods. Our experts will be there to assist you every step of the way.
Step 2: Design
Once the design is agreed upon, your concept will then be rendered in a 3D cad program, allowing you to see a clear visualization of your ring long before it's on your significant others finger. This process helps eliminate any questions you might have as you work out all the design kinks, especially once you receive you wax print of your casting.
Step 3: Fit and Feel
Once your design is rendered and finalized, Chrysella will print a wax model of your design. Allowing you to effectively hold your ring in your hands long before it ever enters a casting house. This prototype gives you the opportunity to see every detail and fit before the finished ring is handmade.
Step 4: The Finished Ring
To wrap it all up, your custom ring is delivered to you in a beautiful Chrysella jewelry box and bag, exquisitely finished for you to cherish with your loved one forever.
Do you have questions about creating a custom engagement ring? That's good! Purchasing a custom engagement ring is a big commitment so we encourage you to ask our team if you have any questions.
The experience of buying a custom engagement ring with Chrysella is individually tailored to your needs with an in-depth explanation of the process at every stage. We want you to feel confident in your purchase and will consult with you every step of the way.
If you want to talk to a member of our team about a specific request, please get in touch with us here and we will be happy to help.
Frequently Asked Questions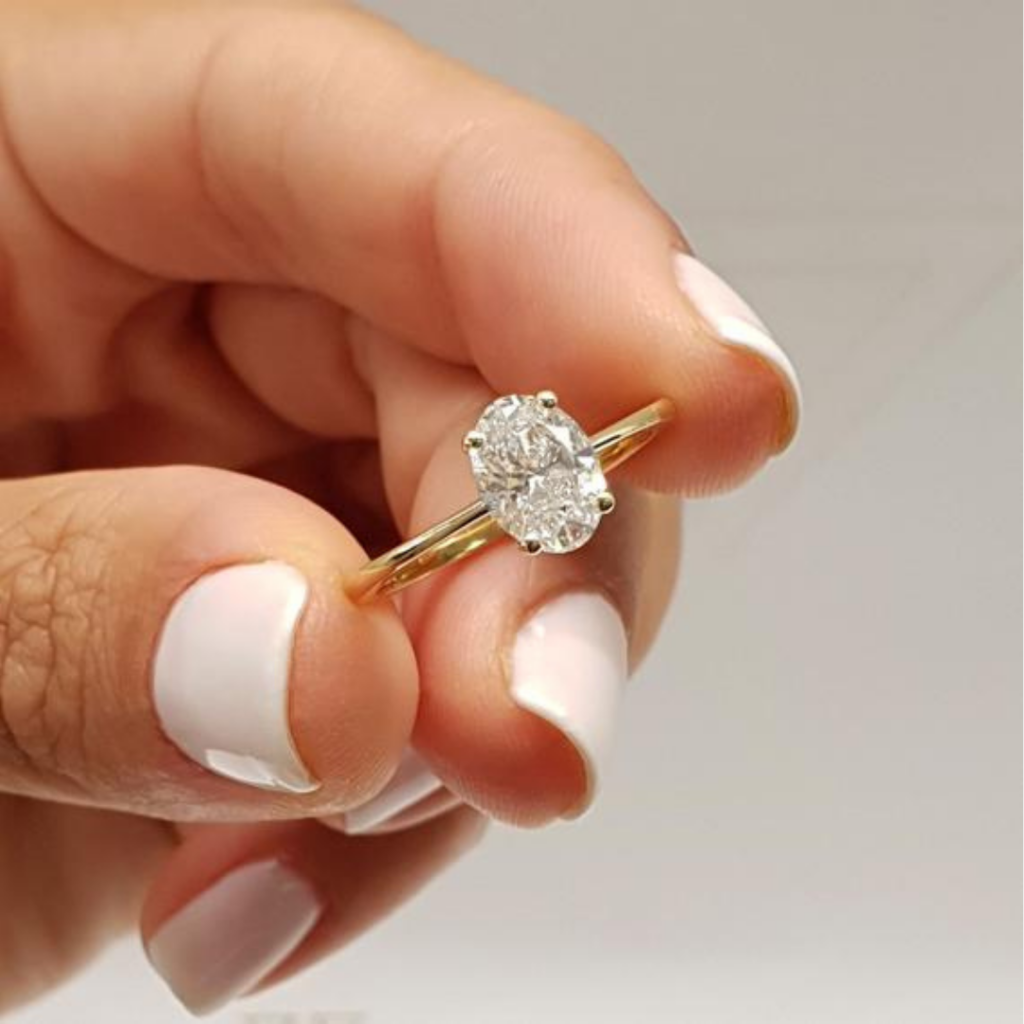 What Diamonds and Colored Gemstones do you offer?
Our extensive catalogue of natural and lab-grown GIA (Gemological Institute of America) graded diamonds in addition to an array of colored gemstones, that can all be used to personalize your perfect custom engagement ring. Our GIA-certified experts take pride in educating our clients on the exact details of every stone, so you can have confidence in your purchase and a full understanding of your gemstone's characteristics and quality.
How long does a Custom Engagement Ring take to make?
Most custom engagement rings take around three to six weeks to complete, depending on complexity of design and any changes during process. If you need your jewelry finished in a shorter timeframe, speak to our consultants and we will endeavor to expedite your piece for no additional cost.
Does a Custom Engagement Ring cost more?
In short, no! Custom-designed engagement rings are more affordable than most would consider. It completely depends on the design you are looking for. Whatever your budget may be, we will work with you to ensure your dream engagement ring is realized within your expectations. Custom does not mean cost, but control.
What quality assurance does Chrysella Diamonds offer?
Our team are experts in custom engagement ring design and will always work to get the most out of your budget. GIA certified and experts in ring craftsmanship and quality, you can rest assured that your custom ring design is in safe hands.
All of our custom rings are covered by Chrysella care: our own cover for the lifetime of your jewelry to repair any structural defects, whether it be a gemstone falling out or a crack in the ring. We also offer a comprehensive insurance appraisal, completed by a GIA certified gemologist.
Buying a custom engagement ring with Chrysella
We offer a personalized experience from the time you schedule a consultation to the moment you both say, 'I do'.
Want us to help you bring your ideas to life? Contact our team to find out more or schedule an appointment here.