The holiday season is filled with sweet and romantic moments that are just made for popping the big question! Whether you're snuggling up with your loved one in front of the fire or decorating the Christmas tree after taking a long snowy walk, the festive holidays are packed with special moments that are perfect for proposing – so it's no wonder that it's the most popular holiday for couples to get engaged. 40% of couples get engaged on Christmas Day, Christmas Eve or the 12th of December, making it the most popular time of year to propose besides Valentines Day! Tis the season for a proposal!
If you're considering getting down on bended knee this Christmas, stay tuned for some original ways to ask your partner to marry you, plus how to pull off the perfect Christmas proposal.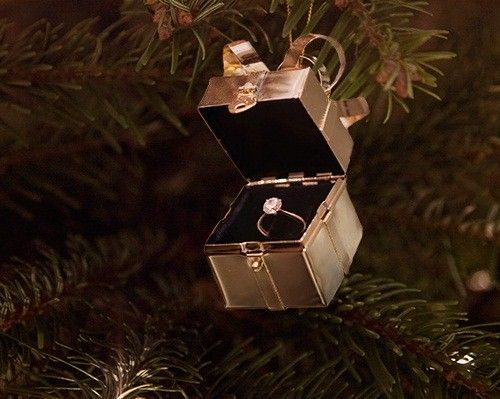 Christmas Proposal Ideas
The wonderful thing about Christmas is the fact that your time will already be filled with shared intimate moments with your partner. Think about those instances spent wrapping gifts for family and friends, decorating the tree, or sharing a glass of mulled wine in front of a toasty fireplace. Take advantage of that romantic Christmas spirit, and the twinkly festive backdrop, and take the plunge with one of these festive proposal ideas:
Meet Her Under The Mistletoe
Of course, no December proposal should be without a sprig of festive mistletoe; the seasonal symbol of love. Ask her to meet you under a branch of hanging mistletoe, and then surprise her with a truly romantic proposal.
Give Them A Gift Within A Gift
Throw them off the scent by wrapping the engagement ring inside a box (perhaps even inside another box) which is much larger than the ring, so that you can keep your proposal a surprise until they've unwrapped all the other layers (which also give you plenty of time to get down on one knee!).
Sneakily make your ring a part of the decorations and tie your ring to a pretty ribbon and hang amongst the pine leaves and ask your beloved to look for something on the tree on Christmas day, or even as a surprise when you're decorating the tree earlier in December.
Hide The Ring Inside A Bauble
We've spotted some bauble designs that leave room inside for a sparkling engagement ring; you could even ask your SO to put it on the tree when you're both decorating and just wait for her to notice what's inside.
Propose On A Long Winter Walk
Let nature set the scene for you. Take your partner walking in a winter wonderland and for a stroll while the world is under a blanket of snow for a perfect Christmas proposal.
It's not uncommon to feel some pressure mounting as you start brainstorming the way you want to pop the big question. We'd like to remind you not to worry! Just be sure to take some time to plan how exactly you'd like the day to go, be ready to be flexible, and make sure you design the perfect custom engagement ring with Chrysella. No matter how you decide to ask your significant other's hand in marriage, it will be a magical and unforgettable moment for the both of you.