Popping the question is one of the most memorable experiences of your life; a treasured moment between you and your partner that you'll remember for a lifetime. Make the moment truly yours with a completely personalized, Chrysella custom design engagement ring. Our services encompass a complete bespoke ring design service, with both 3D renders and resin models for you to view prior to purchase.
---
Unique To You
Nobody's story is the same as yours, so why should your engagement ring be? Selecting a genuinely personalized ring gives complete freedom for you to express your story, choosing precious stones and a style that resembles you and your partner. Whether it's a specific gemstone, an inspired ring design or perhaps incorporating diamonds from an existing family heirloom, we can transform your unique design into something timeless that will be treasured by your sweetheart for years to come.
---
Design From Start To Finish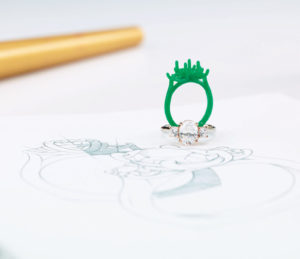 Choosing a custom-designed engagement ring allows you complete flexibility and control over the process from start to finish. Our team of expert jewelry designers will guide you through the initial design stages, turning your inspiration into a physical drawing, and working with you to translate your vision into the perfect engagement ring.
Our jewelers will then render your ideas using the latest Computer Aided Software which allows you to visualize how your design will look. From here, we will also create a wax or resin prototype which will enable you to see every detail before making your ring into the finished piece. We will also work with you at this stage to tweak and amend your design if needed.
Finally, we create your bespoke design in the metal of your choice, with exquisitely set, hand selected diamonds and precious stones.
---
Fast Timescale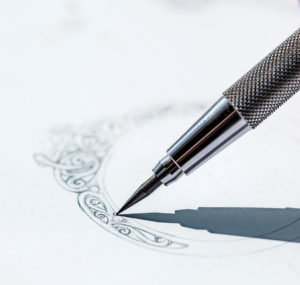 Contrary to what you might think, creating a custom design engagement ring is not a long process, taking only 2-4 weeks to make from start to finish. This timescale includes the initial design consultation, right through to the completion of your custom engagement ring.
Of course, if the date you've set for your proposal is sooner than this, we can endeavor to complete your jewelry design in a shorter time frame – just let us know.
---
Cost Effective
Another myth busted – having a custom engagement ring made isn't as expensive as you think. The idea of having a bespoke engagement ring often carries a hefty price tag, but the reality is that a bespoke ring can cost as little as $500. Comparably, premade engagement rings are usually priced the same amount as a bespoke design. When determining the value of making your personalized engagement ring, it all depends on the design and how elaborate your ring will need to be.
We can work with you to accommodate your budget. No matter how small or how large, our expert jewelry designers can turn your ideas into a custom engagement ring design that fits within your price expectations.
---
To Last A Lifetime
Our quality and standards are second-to-none, and we fully stand behind every single piece of jewelry we make. For ultimate peace of mind, your bespoke jewelry comes with a lifetime guarantee; covering your custom engagement ring for any structural defects should they arise, and for the lifetime of your jewelry.
Our jewelry also comes with a full appraisal by a GIA Graduate gemologist, to insure your unique piece.
---
Custom Design Engagement Rings
Make your engagement completely yours with a unique, custom design engagement ring. Our jewelry design services span a complete ring design service, including comprehensive ring design and modeling using 3D technology and wax casts. Find out more about our Custom Design Jewelry or contact us today to discover how we can create your perfect engagement ring.